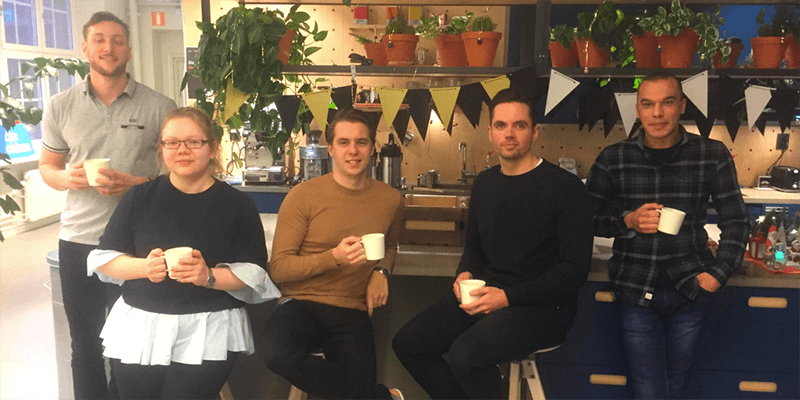 After attending an Adobe Experience Management training in one of Accenture's training centers in Frankfurt am Main, Waldemar Britts joined the organization as a developer. As a quick learner he has been able to gain new skills, take more responsibility and even teach others due Accenture's investment in their employees' development.
Waldemar is a senior Analyst at Accenture and, since the beginning of 2016, he has been working on a large e-commerce project as a developer. He is mainly responsible for developing the content that is displayed on the e-commerce sites.
"The sites are broken down into reusable building blocks using a Content Management System (CMS) called Adobe Experience Manager (AEM). I create these building blocks based on the customer's requirements. The client or content author takes these building blocks and builds up the pages to suit their needs best."
This large project is international in scope and he is part of a team that includes Accenture Sweden and also Accenture Italy, India and Riga, to name a few.
"In total we are 15-16 in my team, but in the entire project, we are several hundred people. The client owns several brands that are present in different countries. We are developing a complete e-commerce solution where five brands will go live in 18 countries/markets."
Since, at first, he was the only Swedish developer on this project he had the opportunity to live in Milan, Italy, for 10 months to learn the system. Waldemar gets excited talking about the international flavor of his work for Accenture.
"I had a great time in Milan, hanging out with the Italian members of the team. Today, I still often travel to Milan for work. I have also had the possibility to travel twice to New Delhi, India, to work with the team there and teach them about the solution since they will take responsibility for this once it is in production."
Waldemar has also been motivated and challenged by the richness of professional development opportunities at Accenture. After he learned the system from the Milan team, he was given the responsibility to train five new developers in Sweden.
"Over time, as I learned about the project and how we work, they started to expand the Swedish team and I got the responsibility to teach five new developers about AEM and about the project as a whole. My development at Accenture has moved very quickly. What I like about my time so far is that you get a lot of responsibility very early on. And my responsibilities have gradually increased as well. I am a firm believer that all development happens when you step out of your comfort zone and get new experiences… that is when you grow!"
Accenture encourages employees' careers through financial support for trainings and literature.
"We have a dedicated training budget and a budget to buy literature each year and Accenture organizes a lot of trainings. There is a portal where we can find trainings and are free to join, if it is accepted by the project we are currently working on. Trainings can often mean that you travel to training centers around the world. For example, the AEM training that I attended in Frankfurt."
The company also has career counselor for employees, an innovation not found in every organization.
"At Accenture, we have a career counselor that we speak to regarding our current situation and what we would like our future to look like. The career counselor guides us and also pushes for these changes within the organization."
Waldemar has clear goals for his development and he is able to achieve these at Accenture.
"The key driver for me is to constantly learn new things. It can be more explicit knowledge, such as knowing how to code something but also more tacit knowledge, such as communication, organization, and the like. In the coming year, the plan is for me to expand my knowledge to become more cross-functional between the different technologies we have in this project. I will have the opportunity to learn new systems, such as the Hybris e-commerce platform."
Waldemar describes why he likes working on exciting projects in the fast-paced work environment of Accenture.
"I would recommend Accenture as an employer, because you get a lot of responsibility quickly, you get to work with dedicated people from all over the world, and I enjoy the sense of team-building work to reach a common goal."
And right now Accenture is looking for a variety of developers to join their multifunctional teams. Take a look at the opportunities here.
Topics: IT, Recruiting, Rekrytering, accenture, För jobbsökande