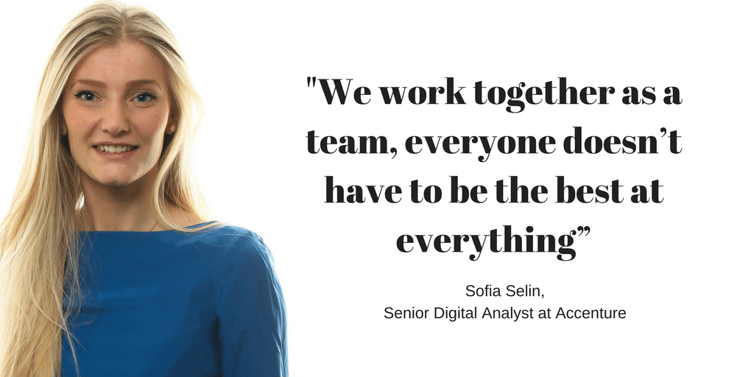 When newly graduated Sofia Selin first joined Accenture two years ago, she couldn't have imagined the job opportunities that laid ahead of her, and that she was entering a company that promotes a culture of innovation, collaboration and diversity.

A multicultural environment stimulates its members
Today Sofia operates as an Integration Lead in an e-commerce project within the retail industry. Her main responsibility is to align the online solution from an integration perspective.
"This means that I am responsible for design & test of integrations to and from the e-commerce platform. As a team lead, I am also responsible for coaching and leading my team, so that we together can deliver what is expected in the best possible way."
The integration team is part of the online team. The online team is a multifunctional team consisting of lead roles, business analysts, backend developers, front-end developers, testers and scrum masters working closely together.
"I feel that the environment is very stimulating because we have so many colleagues from different cultures. On a normal day, I have the chance to work with Italian, German, Spanish, Indian, & British colleagues. Multiculturalism also means that I get to travel in my work which is something that I truly appreciate."
Sofia also operates with many different stakeholders at the client end.
"We need to communicate with stakeholders from all the different systems we integrate with; both internal and 3rd party systems. We also work with solution architects, business owners, testers and requirement analysts."
Core values of the culture – innovation, collaboration and diversity
Accenture is a global company that truly values the diversity of its employees.
"We believe in "One global network". And I can see this every day in my project, where we have people from all over the world contributing with their different competences, together as one team."
You get to surround yourself with smart and driven people from whom you can learn a lot and rely on whenever you need help. There are always people happy to help, whether it is a colleague, or a the most senior leaders.
"The leadership is not only supportive but also demanding. So, you are pushed to go beyond your comfort zone, hence you learn much faster."
There are many opportunities to spend time together with the team and with other colleagues at Accenture outside business hours.
"For example, I play floorball with colleagues every Monday, and we frequently organize after works and other events such as Christmas & summer parties. I have gained many good friends during my time at Accenture."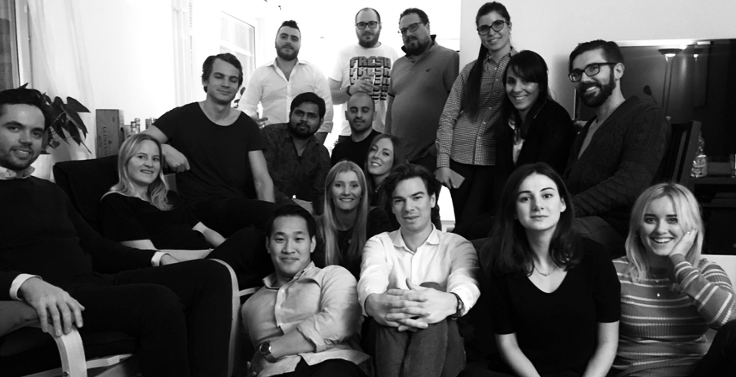 Low hierarchy gives you room to grow and take responsibility
When Sofia first started at Accenture, her initial thought was that the organization might be very hierarchical. This thought was quickly proved wrong.
"Instead, I would say that in projects we always work as a team, where everyone helps each other to achieve the best possible results for our clients. I can always ask my highest lead for guidance if I am unsure how to handle a situation. They are always very open and take time to listen to the team whenever needed."
During Sofias years at Accenture, the company has focused more on innovation and bringing out the best out of every employee, rather than everyone being good at everything.
"Which also goes hand in hand with what I mentioned before, we work together as a team, everyone doesn't have to be the best at everything."
Accenture is also a company that has faith in its employees and support their career paths from the very beginning.
"When I started at Accenture as a graduate, I didn't know anything about Integrations, and now after two years I am leading an integration team in a big e-commerce project going live on multiple markets. This is how fast you learn and develop when you have great leadership & colleagues!"
Today Sofia describes Accenture as an employer that believes in great leadership as the key component of driving growth and professional development.
And right now Accenture is looking for mobile software engineers to join their multifunctional teams. Take a look at the opportunities here.
Topics: IT, Recruiting, Rekrytering, Framtidens arbetsliv, För jobbsökande