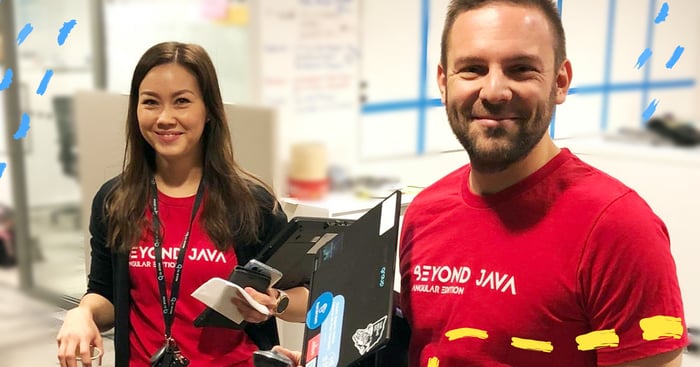 The Beyond Java program gives software developers the opportunity to upgrade their technology expertise through customer projects and top-notch international training in a fully paid program. Developers who joined the program will have access to in-depth Angular training organized by Barona IT with the help of Thoughtram and customer work through CGI.


"The technologies used in the industry are evolving rapidly and the shortage of new technology experts is bigger every year. At the same time, there are many excellent software developers who could quickly adopt new technologies through training. With the program developed in partnership with CGI, we found a partial solution to this challenge. At the same time we were able to provide software developers with an easy and clear path to technical career development."

- Janne Borro, Barona IT


Four people were selected to this year's program. The professional experience of the participants varied from two to 20 years. Unlike the training models seen so far in the industry, participants are paid full salary from day one and it is individually determined based on the individual's previous experience.
"Angular was already familiar to me before the program, but my confidence and expertise in scalable application architecture and testability expanded significantly. The program featured Google-certified top educators from Germany and Belgium. The arrangements were top-notch and I have not yet encountered the same level of care during my past. "

-Henri Blomster, Software Developer


The purpose of the program is to provide an opportunity for developers to update their skills without worrying about salary drop. On the other hand, the program is also a good springboard for early-stage developers. Those starting the program will be able to put the technology they have learned into customer projects right away, further deepening their skills.
"At CGI, we believe programs such as Beyond Java provide a truly exciting opportunity for both experienced and early-stage software developers to develop their careers and upgrade their technology stack. We are very pleased with the program we have done in partnership with Barona IT. "

- Juha Linkola, CGI
Additional Information:
Jony Chowdhury
Sales Manager - IT
Tel: +46 73 524 00 90
Barona IT consists of two business areas - Solutions for Tech Support and Digital Talent Solutions. We employ over 1000 IT experts annually and operate in Finland, Sweden, Denmark, and Poland.
Topics: IT