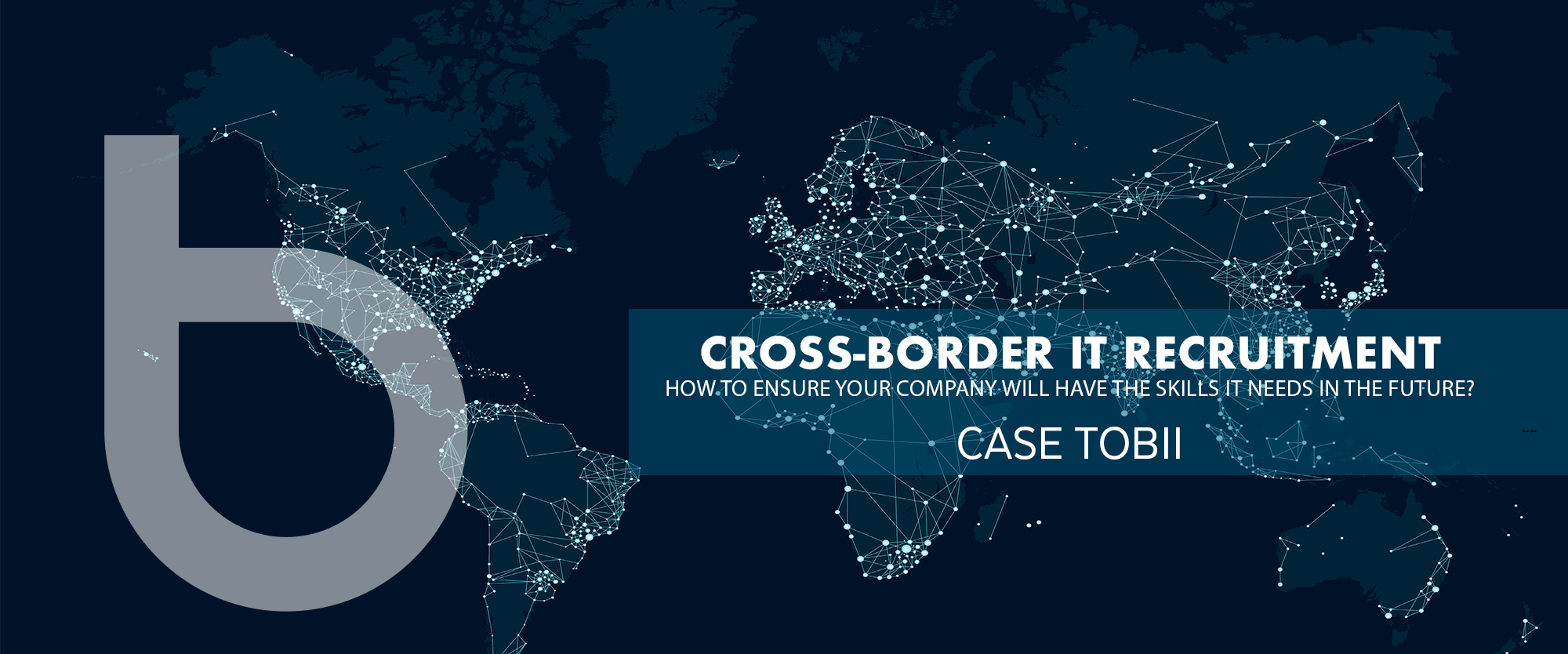 We had a "Cross-border IT recruitments" event on the 16th of October and we wrote a summary of the event earlier this autumn and now got to discuss with Tobii's Caroline Eriksson about the possibilities and responsibilities cross-border recruitment brings, and how to manage diversity at workplace. Caroline will share her insights and practical tools to manage and operate a successful cross-border recruitment process. Caroline works as a technical recruiter for R&D department at Tobii.
Tobii was founded in 2001 and they started as a very small company specialized in eye-tracking technology. Tobii became a market leader quite fast and they have grown a lot since they started. Less than a year ago they had about 500 employees globally from which of 200 employees were located in Stockholm area. Today, they have over 1000 employees globally and approximately half of the employees are located in Stockholm area where they have already 50 different nationalities, in Stockholm office alone!
As Tobii is a big player in the technology field they still have difficulties to recruit talented people. As Caroline says, "we are in need to hire people abroad because here in Sweden and Stockholm we don't have enough competence." Tobii has done cross-border recruitments actively for three years now and they started from scratch. So, here are some tips and tricks on how to succeed in cross-border recruitments and what you need to consider before starting the process. "We are bringing people from a different country which comes with promises from our side too", summarizes Caroline.
There are a lot of myths when talking about cross-border recruitments such as: it is expensive, it takes long time, it is difficult to compare the salaries and the benefits and so on. From Caroline's perspective these are all myths and she'll tell us why these are myths later on: "Recruiting abroad might be even easier than you think!"
So, what lit the fire at first place to start bringing people into Sweden from abroad?
"We were forced to go abroad with our recruitments because we needed to grow, and we had difficulties to be seen as an attractive top tech company among all the others! At that time there were loads of top brands seeking and hunting for the same knowhow (.net, c++, java, c#) as we did, so basically, we were all looking for the same talents and the competition was crazy. At the same time, we were a small company that nobody knew about." After realizing that even with a long period of time they couldn't fill up their open positions they needed to react somehow. Tobii couldn't find enough the knowhow they needed for their growth, so they decided to widen their searching area. "We were in a survival mode, we really needed to grow so we just started contacting people all around the world."
This is what you have to decide before starting cross-border recruitments
It is important for a company to think about the pros and cons for cross-border recruitments before you start recruiting.
The cost of the process – count how much you are spending for your hires today, are you having difficulties to find the wanted talent? How much time do you spend on the recruitment process? Read and learn about the positive effects of diversity and cultural diversity in a company. Caroline says that she has read that cultural diversity increases productivity and creativity and therefore even the profits – share information with your organization, people need to know the benefits of it. "I love SWOT analyses, just write down everything you are worried about and discuss about the topics openly inside the company. Read about the Visa process – it is not at all as hard as we think."
Cultural part is very important to take into consideration in general all recruitment processes: we are unique, we have different needs, we have different personalities, we think differently, we communicate differently, we behave differently – this is in our nature. Our DNA is one thing but the environmental things that changes and affects us - that is a different case. A safe place for example might mean a totally different thing for different people from different environment. A company that is thinking about recruiting people from abroad need to be open for everybody and be ready to face the differences and accept differences at all levels inside the company. You can start by changing your company language into English – at least all the new materials one by one and then all of a sudden you notice that it comes naturally.
"You really have to imagine yourself in a situation where you move from one country to another – it must be super hard. Of course, when you have several people from abroad suddenly there are a lot of people who can help each other's too – that is amazing, and it creates more clusters among people with the same experience." A company should think about all the ways how could they support and get your employees from abroad to feel comfortable to live in Sweden and to work in your company.
Assumptions are always a bad thing, we might have assumptions on how in other countries people live and act, but we don't know if we don't ask: "we want to know what is important for each individual." Caroline encourages everyone to be very open about everything and ask questions from the very beginning and in the first contacts: "I always start the discussion by asking what you know about Sweden. Usually they say that yes, I know about the snow!" In most of the cases people are willing and excited to come and move to Sweden, Finland and Norway, states Caroline.
"We want to build brand ambassadors, so we need to live as we promise, remember that somebody is making a huge jump in their life: be responsible!" When talking about responsibility in cross-border recruitments a company needs to think about the candidates' families too: many times, when recruiting from abroad they might have families that follows so what is company's responsibility towards them? It is extremely important to think about what to promise and what to provide for the whole family – is your company ready to be a safety net in every issue or do you only invite a new employee to work in Sweden? There are a lot of scales in between but this is something you really need to think before starting cross-border recruitments, summarizes Caroline.
The move. Here are few things Caroline listed that a company needs to decide whether they will pay for or if it's something the new employee need to take care of on their own – think about what you can give and what not – these are important things that people will ask about. Caroline encourages companies to think about all the questions they might have themselves if they were moving into other country for work:
Will you pay the plane tickets for the job interview? What about for the family?
Will you pay the plane tickets for the final moving? What about for the family?
Work Visa and everything around it, what is your role in this? What about the Visas for the family?
Can the employee bring her/his family? What is your responsibility on them? What about the daycare, schools?
A spouse, will you help him/her to find a job?
Will you have a community for the spouse/children
Do you have a company that supports English? Are your employees comfortable to speak English?
"You need to know that one of the biggest reasons people to want to move back is because of that employee's family or partner didn't settle in that well or the language barriers inside the company", states Caroline.
Make sure your company speaks English and that all the relevant materials are in English. Engage and help the new employee (and their possible family/spouse) into the Swedish culture and be open for new cultures.
When starting the cross-border recruitments
"After you have decided that yep we want to start cross-border recruitments: make sure that your company language is English and that everything you talk about is screaming diversity! You do not want to be seen as a Swedish company who only speaks Swedish but if it is so then tell that yes we are a Swedish company with Swedish people, but we would love to bring in people from abroad". Make sure your company's ads and communication are in line with the message that you are open for cultural diversity, make sure your visual appearance supports that too.
One practical thing that is very important to do in order to ensure your employee being able to get the working Visa is to publish the job ad in AMS – if not you won't be able to apply for Visa for people coming abroad.
Myths
Cross-border recruitments takes time, is expensive, salaries aren't comparable, different company cultures are hard to bridge, Visa process takes a long time… Caroline counts these as a myth that are surrounding cross-border recruitments and she wants to make few adjustments for the myths.
It takes time. If you think about a recruitment process, you'll start searching people with the right knowhow, this takes time too. And if you succeed in finding an interested candidate, s/he usually has three months' notice, so if we are lucky, we might have a new employee within four months after we started the search- this is a very positive number. According to Almega, applying for the working Visa to Sweden takes about one month and the notice times are much less abroad. So, if the working Visa process takes about 1month the rest is up to you and the candidate.
It is expensive. Think again about the costs and the time that a regular recruitment takes. Rarely it is enough for a company to publish a job ad into a job board when seeking IT professionals. Visa application process is around 20 000 Swedish crowns which is not much.
Salaries aren't comparable. Just google it, there are a lot of different webpages where you can compare, you can compare for example the cost of milk etc.
Visa process takes a long time. No it doesn't, it takes about 1month for IT professionals and if you recruit from Europe it is almost the same as recruiting from Sweden.
"At tobii we try to support diversity, but I don't think we'll ever be ready. It is so fun when new people get into the company because we'll always get new information on how we could support diversity even more. People really want to build a better company together and I think that's amazing."
At Tobii they have 50 different nationalities at the Stockholm office today and they have learnt a lot from each new employee. The employees can join cooking and language classes from almost all around the world now. Swedish lessons are on Tuesdays during a work day, so employees can learn Swedish during the office hours -if they want to. There are a lot of ways for employees to connect, and everybody can feel comfortable with their work. "We are lucky to have this much diversity in our company and we love to share knowledge and that is a must for people to feel comfortable and part of something." At Tobii they have gathered information from people who have moved to Sweden and they'll be published at their webpage soon.
The Tobii Group serve different markets and users with a breadth of products and services that extends beyond eye tracking. Tobii Dynavox is the global leader in assistive technology for communication. Tobii Pro is the global leader in eye-tracking solutions and services to study human behavior. Tobii Tech develops Tobii's world-leading eye-tracking technology for integration into volume products such as computers, computer games, virtual reality and cars.
Topics: IT, cross-border recruitments, För företag